Adderly
(Canada 1986 - 1989)
V.H. Adderly è una spia dell'I.S.I. (International Security Intelligence) che, a causa di una ferita alla mano sinistra, è stato assegnato all'ufficio Affari Vari.

Dovendo seguire i vari casi da dietro una scrivania si ritrova a lavorare insieme con Melville Greenspan (il suo superiore), Mona Ellerbee (la segretaria) e al maggiore Clack.

Il personaggio di Adderly è stato preso da un romanzo dello stesso Baker "Pocock and Pitt".
Le iniziali V.H. stanno per Virgil Homer un poeta molto amato dai genitori di Baker.
La colonna sonora è di Micky Erbe and Maribeth Solomon.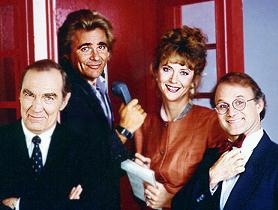 | | |
| --- | --- |
| Paese | Canada |
| Periodo | 1986 - 1989 |
| Creatore | Elliott Baker |
| Episodi | 44 episodi (2 stagioni) da 45 minuti |